Maternity Waiting House No. 2 is Born! ~For women to give birth with peace of mind
2013/12/11 [Etc]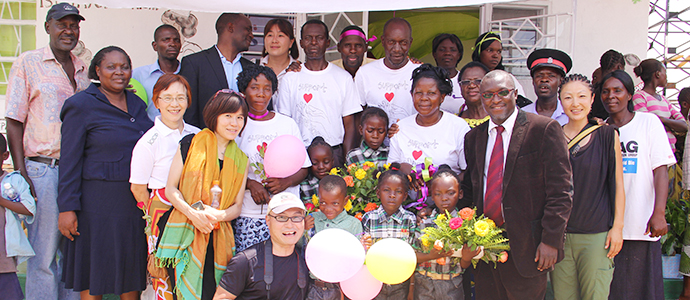 Maternity Waiting House No. 2 was completed under blue skies in our project area in mukolwe village. Instead of walking several hours to get to health care services once their labor pains begin, expectant mothers can now transfer to the maternity waiting house two weeks prior to their due date and feel at ease in delivering their child under the care of trained healthcare professionals.
As with the first maternity waiting house, a painting workshop was held with design/planning collaboration from architect Mikiko Endo. Six Safe Motherhood Action Group (SMAG) members based in the area took the lead to trace and paint illustrations imparting the message of safe motherhood, creating a beautiful exterior that almost altered the building beyond recognition.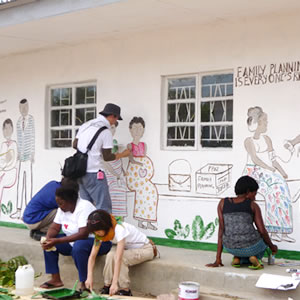 Despite the heat bearing down each day, SMAG members were focused on their painting tasks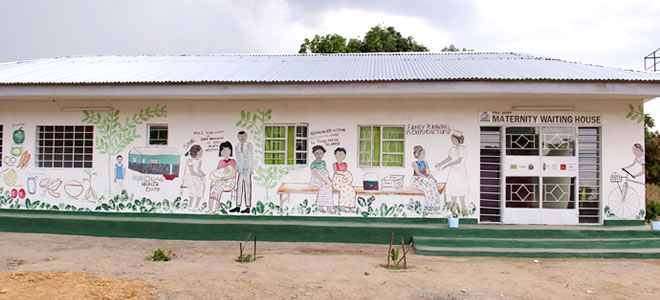 Maternity House exterior:
1. A husband taking his wife to a healthcare facility by bicycle 
2. Pre-natal check-up with nurse 
3. Husband with wife after the birth, SMAG providing support
4. Nutritionally balanced pre and post-natal meals
This was also the first time for a planning and design workshop to be held for SMAG members. Using models and referencing hand-drawn diagrams, Endo gave clear instructions on how to plan the placement of the containers, kitchen, toilet, etc.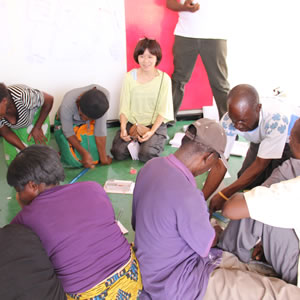 Planning and design workshop:
SMAG members seemed to enjoy the short, intensive workshop
The day of the opening ceremony saw the gathering of almost 200 people from the surrounding villages, including SMAG members. As they celebrated the building's long-awaited completion, many women exclaimed, "This is even nicer than my own house! I'd like to stay in such a comfortable maternity waiting house!" The tapestry in the lounge displaying the names, photographs and messages of JOICFP friends (if so desired) was of immense interest to the village women. Seeing these faces made the distance between Zambia and Japan feel a great deal closer.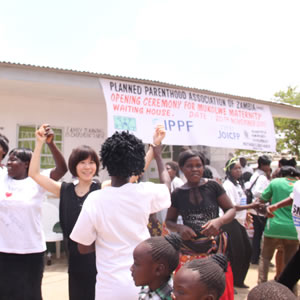 Opening ceremony
Joining our visit this time and in preparation for the MODE for Charity2013 event was Mamoru Horiguchi, a photographer undertaking the Smiling Baby Project. Horiguchi photographed a total of 39 babies. Though it was hard to get them to smile at first, they finally did when coaxed by the smiles of their mothers and Horiguchi. The mothers looked the happiest of all.
Smiling Baby: Everyone smiles when a baby smiles