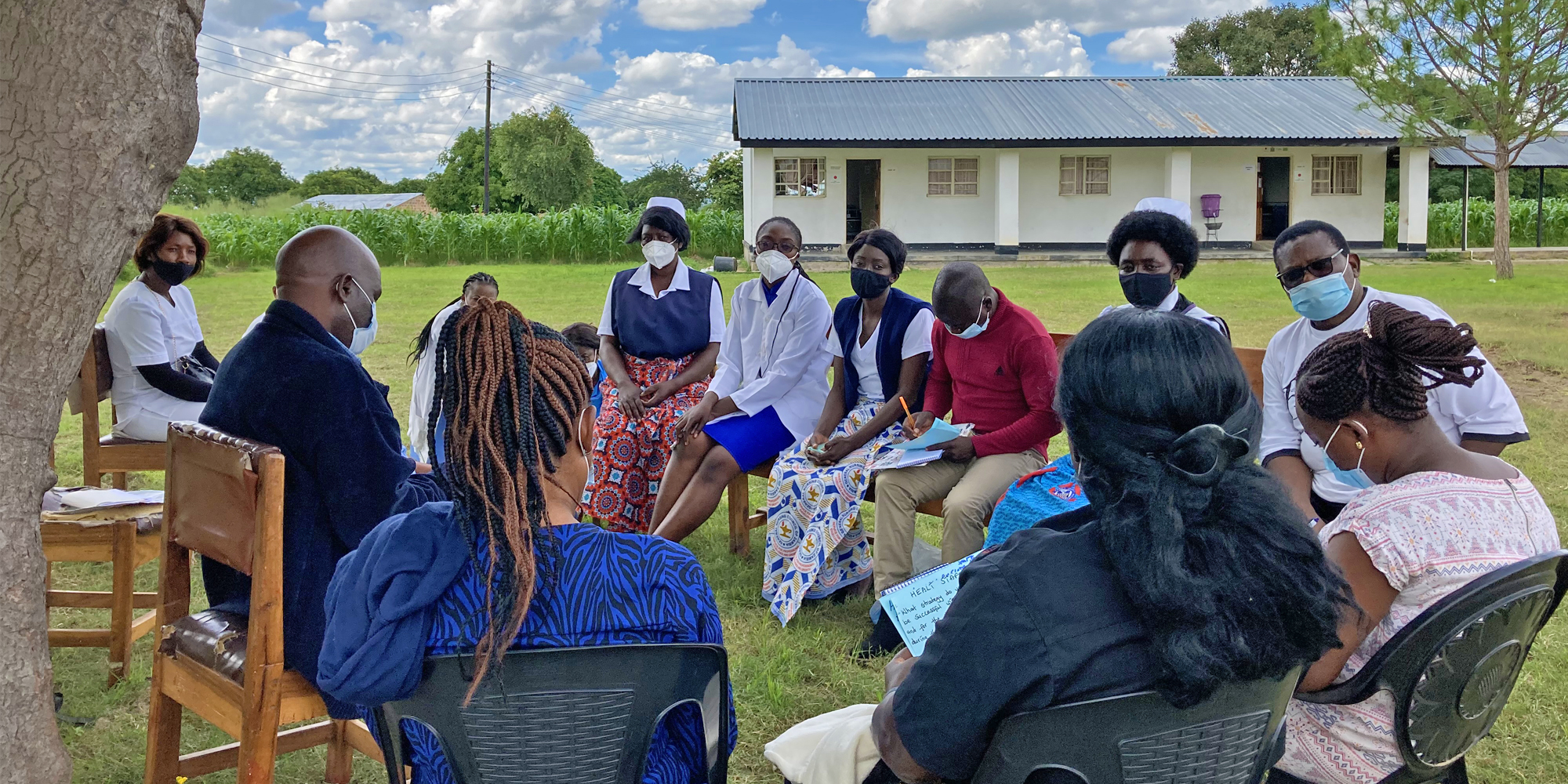 JOICFP Organizes a Workshop to Share Best Practices in Sexual Reproductive Health Promotion from Kenya, Tanzania, Ghana, and Zambia
2022.4.4
The fifth year of the five-year project titled "Protecting the Lives of Pregnant Women in Africa: a community-centered sustainable health promotion project" supported by Takeda Pharmaceutical Company Limited and implemented by JOICFP, started in 2022.
Project members from four countries gathered in Zambia in February 2022 to share best practices, learnings, and strengths from the past four years. After learning from experiences of other countries to enhance SRHR services sustainably and self-sufficiently in their own countries, the members worked on creating a powerful action plan to continue expanding SRHR services in their countries after the end of the project in 2023.
During the past four years, JOICFP supported activities in Kenya, Tanzania, Ghana, and Zambia with a focus on training community people to sustainably provide SRH services in their areas. This is aligned with JOICFP's goal to provide a sustainable framework that supports communities to provide quality SRHR services and care on their own so everybody in the community can promote their health.
Project members from four countries in Africa traveled to Zambia during the coronavirus pandemic under strict precautions to prevent any infections. But it was meaningful to gather members to talk in person, share experiences and thoughts, and know that there are colleagues across the region striving to realize SRHR in their countries.
Project Changes Reality:
No More Girls Selling Themselves for Sanitary Pads
Among the stories shared by participants, there was one story the project staff could not forget. A participant from Kenya told us about an adolescent girl living in Kibera, the largest slum in Nairobi.
Members conducted a mid-term survey to find out that one of the reasons of unintended pregnancies of teenage girls was limited access to sanitary pads. Girls had to have sex with men to buy sanitary pads. JOICFP conducted fundraising trainings at project areas to change such conditions. Youth activists in Kibera ran a "Pad Drive" to gather donations via SNS channels to provide sanitary pads to school-age girls for free.
One recipient was a young woman named Rose. We heard her story.
"At the end of each month, I used to provide myself to men (i.e., sold sex to men in exchange for money) to buy sanitary goods for my sister and myself. One day a friend came to tell me that there is a peer educator in the area who teaches about menstruation and sanitation and distributes sanitary goods. I looked for that peer educator, who invited me to an event."
"I learned about menstruation and sanitation at the event, as well as many things about my body. I received a pack of sanitary pads and learned how to use them properly. I was truly grateful since I did not have to do anything to get the pads. Since then, I check where and when the peer educator is having events and have invited five friends to join. These girls have received assistance from the peer educator."
With sanitary pads, Rose gained knowledge about her body, and then it helped change her life. This story made the project team think more about the lives of the people we serve.
* A peer educator is a youth volunteer who teaches SRHR information and knowledge to their generation to improve their wellbeing.
Learning Together to Find Possibilities
Having Government Officials, Health Workers, Volunteers at One Table
Everybody who had a connection to the project participated in the meeting. There were government officials who drafted maternal and child health policies at the Ministry of Health, county officials, midwives and nurses from clinics, community health volunteers, peer educators and pharmacists. The workshop became a rare opportunity for all stakeholders, from top government to grassroots, who aim to "protect the lives and health of women" to gather in one place to share experiences and discuss.
There was a field trip during the workshop to project areas in Zambia to observe community led SRHR programs.
For example, the people of the Luanshimba community in Kapiri Mposhi District, Central Province, raised money to build a maternity waiting house without receiving external funding.
The Kalweo community continues to provide quality services and care through its One Stop Service site built in 2016 with the help of healthcare workers, SMAG members, and the community health committee. With cooperation, effort, and small innovations, they have kept the facility in good shape.
Workshop participants had the opportunity to visit these facilities and learn from real examples in the field. Participants went back to the conference rooms with a fresh knowledge of their strength and weaknesses as well as ideas to draft autonomous action plans that build on their past activities and provide sustainable, quality services in their countries.
There was a Q&A session where peer educators, healthcare workers, and community health volunteers from the four countries to discuss about their work.
Participants shared issues and best practices and found ways to apply experiences in other countries. Many participants commented that they can do more by adapting methods shared in the session to their environments.
Running Hybrid Workshop During the Pandemic Improving Organizing Skills
JOICFP organized the workshop with Planned Parenthood Association of Zambia (PPAZ). PPAZ is a member association of the International Planned Parenthood Federation (IPPF). A PPAZ staff stationed at its Ndola Office helped plan, prepare, and conduct the workshop. This was the first time for JOICFP to have a local staff to fully cover the secretariat role, to hand over responsibilities in the future. And it proved to be a valuable learning opportunity.
Of course, the PPAZ staff have conducted many trainings, workshops, and conferences in Zambia. But this was the first time to plan and conduct an international workshop.
Because of COVID-19, the workshop had to be conducted online in addition to face-to-face meetings. There were technical issues including lack of machinery and communication failures. But even such troubles seemed to be a good experience. Alice, from PPAZ's Ndola Office said that it was exciting to learn what to prepare and arrange for the workshop.
To allow every participant to speak freely and equally regardless of their titles and roles in real life, JOICFP used many techniques and arrangement plans learned from past experiences. From seating and group arrangements, icebreaking, and instructions to avoid confusion, use of cards and papers, and to giving the right questions at the right timing, JOICFP shared the many techniques with PPAZ.
Taking Home New Knowledge and Skills, Action Plans
Here are some of the many comments from the participants:
"From the field trip I learned the community-centered health activities in Zambia"
"I will teach what I learned here back home"
"Through sharing good practices and learning from each other, I recognized that our projects have a good effect on the people of our communities"
Mr. Ofosu from Ghana sent emails to colleagues back home every day during the workshop to share learnings. "The community people of Zambia are really committed to their work! We would like to plan a project that is truly sustainable and for the future," Mr. Ofosu said passionately.
Participants took back their action plans to further discuss with colleagues. The plans are to be implemented in feasible and sustainable forms that fit to their environments. The challenge has just started.
Even after the end of the fifth year, the connections and teamwork forged by the project members will not fade away. JOICFP, PPAZ, and all the stakeholders and project members from the communities, will keep working together for a world that "leaves no one behind."
Author
YOSHIDOME Kei
Kei has been ardently working in the field of international cooperation at JOICFP since 2001, focusing on achieving sexual and reproductive health/rights. She is an expert in social behavior change communication, especially in building communication strategies, planning and developing teaching materials and providing trainers' training, as well as creating community-led frameworks to resolve health issues. Kei has worked in 16 countries in Asia, Africa, and Latin America, and specializes in changing community behavior and creating supportive environments in communities using her technical approaches. On her days off, Kei enjoys practicing Aikido and cooking.