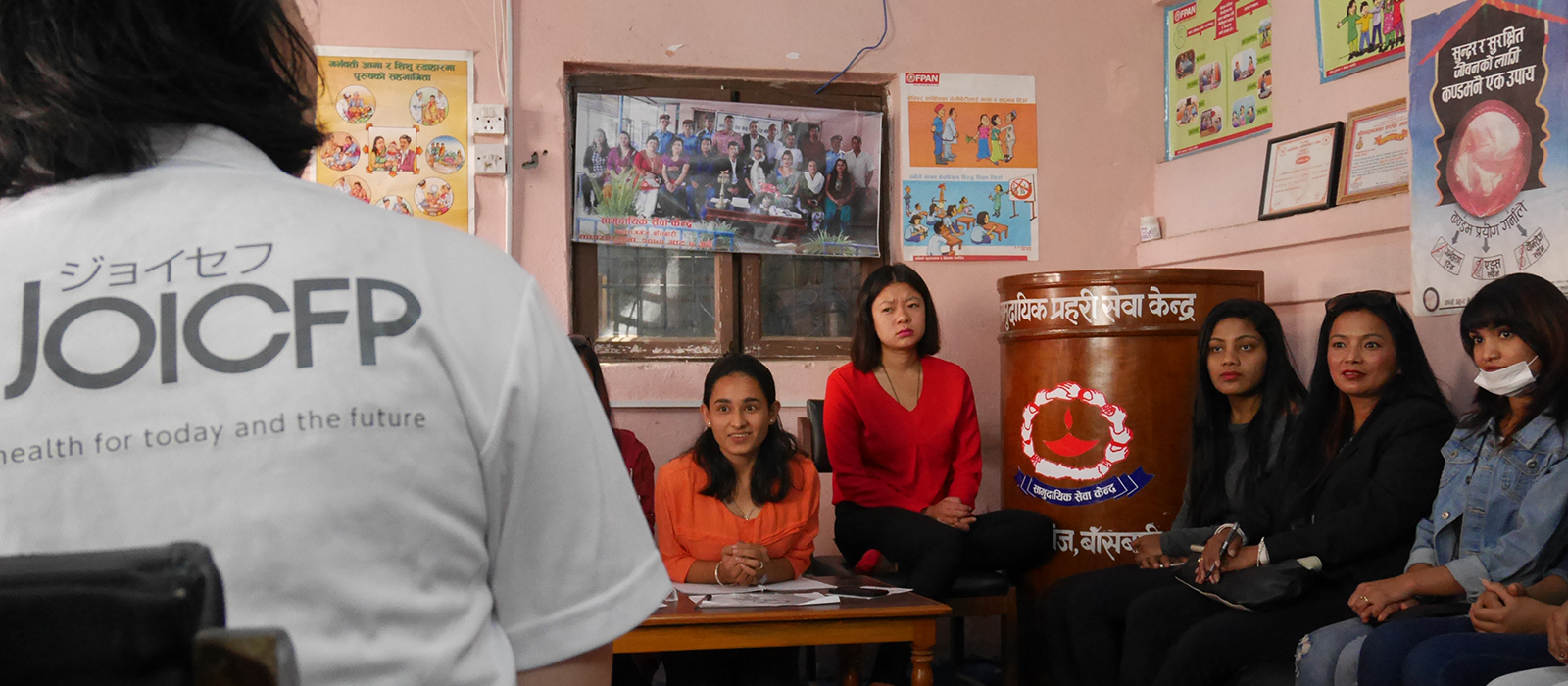 Nepal
Girls Empowerment Program through Comprehensive Sexuality Education and Make-up
Country
Nepal
Project Strengths
Utilize make-up lesson as a motivation of participating Comprehensive Sexuality Education (CSE) class as well as raising self-esteem of girls.
Project Name
Implementing Partners
Family Planning Association of Nepal (FPAN)
Supporting Agencies
Shiseido Japan Co. Ltd.
International Planned Parenthood Federation (IPPF)
Donations from individuals and corporations
Project Period
2.5 years (Nov. 2016– Mar. 2019)
Description of SRHR Needs
In Nepal, gender disparity is one of the issues that expose many girls to greater risks in everyday life, and limit their rights in making decisions and choosing options.

Due to conservativeness, many of the youth do not have a chance to learn about their sexual and reproductive health/rights, while 76.6% of women get married by the age of 24.

Only 42% of abortions in Nepal are carried out by an authorized service provider. Many people, including the youth, do not know about legalization of abortion in Nepal, and go to untrained and unauthorized persons for treatment.

Gender based violence (GBV) is also a serious issue in Nepal, where 22% of the women of reproductive age have experienced physical violence at least once since age 15, and 12% of women of reproductive age reported having experienced sexual violence at least once in their lifetime.

Around 5,000 to 12,000 women and girls aged 10 to 20 years are trafficked within Nepal or to India or other countries every year, and 3/4 of them are below 18 years of age. Most of the victims are sold into forced prostitution.
JOICFP's Intervention
Uniqueness in the Approach
Utilize make-up lessons as a method to motivate young girls to participate for the SRH classes.
Advocate through street drama/flash mobs/radio program
Goal
To improve knowledge of sexual and reproductive health, through comprehensive sexuality education (CSE) targeting the youth, especially young women, so they will be able to protect themselves from the risk of SRH and gender based issues.
Target Area and Population
Kathmandu Valley Region (including City of Kathmandu, Bhaktapur, and Lalitpur)
Makwanpur District
Activities

Training of Peer Educators
68 youth members aged between 15 and 24 have been trained as peer educators who could implement Comprehensive Sexuality Education (CSE) classes to other young people. They were also trained in make-up methods for teaching. The make-up methods have various themes (happy, healthy, smart, etc.) to empower girls and increase self-confidence.
CSE class and advocacy activities through peer educators
CSE classes were taken place at school and youth information centers by trained peer educators. At the same time, make-up sessions were also carried out to motivate young people to participate in the class as well as to increase their self-confidence. In addition, peer educators conducted street drama and flash-mobs for advocacy purpose.
Rebuilding of Bhaktapur Youth Information Center
Bhaktapur Youth Information Center, which collapsed during the earthquake in 2015, will be rebuilt to encourage further activities of peer educators. The Center will be used to hold periodical meetings and counseling by peer educators of the region.
Project Outcomes
Through the capacity building of peer educators, community people, women, men, and youth will be able to receive appropriate information and services.
Additional Information: Attachments, Links, etc.
Project Report 2016